SoftPerfect ® NetWorx
Giá/List Price:

Liên hệ
Part number :
A simple, yet powerful utility for measuring your bandwidth usage and the speed of all kinds of wired and wireless network connections (Dial-up, Ethernet, ISDN, DSL, 802.11b etc.). The program provides the ability to measure your network throughput, graphic and numeric representation of incoming and outgoing traffic, highly customizable alerts, statistics about dialup connection duration, weekly, daily and monthly Internet usage reports, etc.
NetWorx
is a simple and free, yet powerful tool that helps you objectively evaluate your bandwidth situation. You can use it to collect bandwidth usage data and measure the speed of your Internet or any other network connection. NetWorx can help you identify possible sources of network problems, ensure that you do not exceed the bandwidth limits specified by your ISP, or track down suspicious network activity characteristic of Trojan horses and hacker attacks.
The program allows you to monitor all your network connections or a specific network connection (such as Ethernet or PPP) only. The software also features a system of highly customizable visual and sound alerts. You can set it up to alert you when the network connection is down or when some suspicious activity, such as unusually heavy data flow, occurs. It can also automatically disconnect all dialup connections and shut down the system.
The incoming and outgoing traffic is represented on a line chart and logged to a file, so that you can always view statistics about your daily, weekly and monthly bandwidth usage and dialup duration. The reports can be exported to a variety of formats, such as HTML, MS Word and Excel, for further analysis.
---
Key Features
Clear graphic and/or numeric display.
Usage reports with export to a variety of file formats, including Excel, MS Word and HTML.
Permits close supervision of uploads and downloads.
Works with dial-up, ISDN, cable modems, ADSL, Ethernet cards, and more.
Includes network information & testing tools with advanced netstat that displays applications using your Internet connection.
Option to notify user or disconnect from the Internet automatically when network activity exceeds a certain level.
Speed meter to accurately time downloads and report the average transfer rates.
Dial-up session journal with detailed information about every session.
Absolutely free and does not contain any adware/spyware/malware.
We may need your help!
Due to popular demand, we have recently made this software multilingual. However, so far it has got few built-in languages. If you speak a language other than English, use this cool little application, and would like it to be in your language, please submit a translation to your language and we'll include it into the distribution. In order to translate it, please download this file, unzip and edit it in any text editor like Notepad. If your language is already present, you may want to improve it. All the necessary instructions are in that file. Thank you!
With NetWorx You Can ...
Find out and monitor how fast your Internet connection is.
Find out and monitor how much Internet traffic you consume.
Verify whether your ISP charges your Internet usage fairly.
Detect a suspicious network activity on your computer.
Perform simple network tests such as ping and trace route.
Be notified about excessive Internet usage.
Screenshots
Right-click the NetWorx system tray icon (as shown on the picture) to bring up the program's menu. This menu lets you control the utility. Left-clicking the system tray icon displays the current NetWorx state. NetWorx can also display the real time traffic data.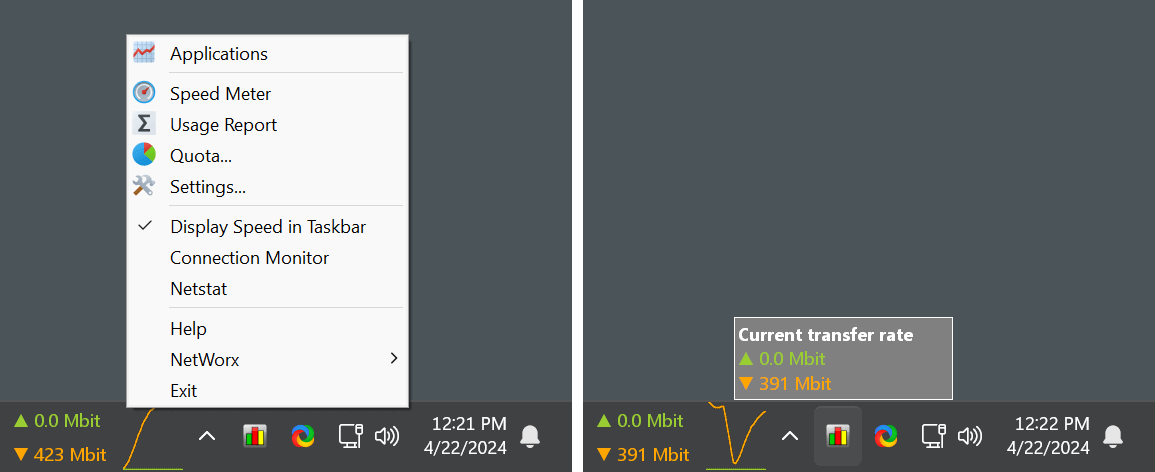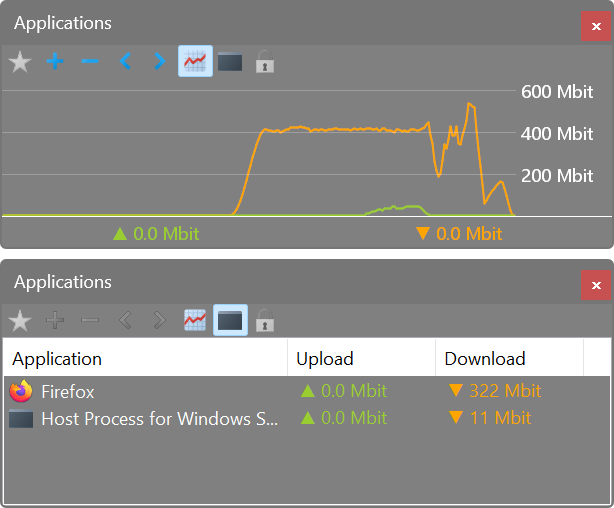 As well as accumulated daily, weekly and monthly totals, and lets you export that information to a number of formats. Click a picture to enlarge!
NetWorx is highly customisable and includes network tools such as ping, trace route and netstat.